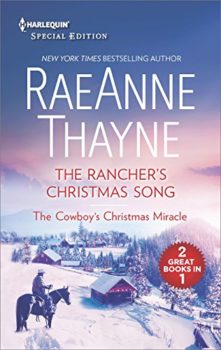 Cowboys of Cold Creek Books #16 & 4
October 31, 2017
Harlequin Special Edition
Box Set
Available in: Paperback, e-Book (reprint)
The Rancher's Christmas Song & The Cowboy's Christmas Miracle
Keep a song in your heart this holiday season…
When Beckett McKinley's twin boys need help preparing a Christmas song for their father, music teacher Ella Baker agrees on one condition: they teach her to ride a horse. Her decision certainly has nothing to do with the crush she has on sexy single dad Beck…
It isn't disinterest spurring Beck to keep his distance—if anything, the spark is too strong, with Ella reminding him of his ex-wife. But with the holidays approaching, Beck and Ella will have to overcome past hurts if they want to keep each other warm this Christmas…
The Rancher's Christmas Song originally published November 2017 in Harlequin Special Edition #2581 in mass market paperback and eBook.
Also included, a Cowboys of Cold Creek favorite—The Cowboy's Christmas Miracle (originally published November 2008 in Silhouette Special Edition #1933)!
Jenna Wheeler's Christmas is not looking very merry and bright, until her gorgeous new landlord, Carson McRaven, helps her find the Christmas spirit where she least expects it—in his arms.