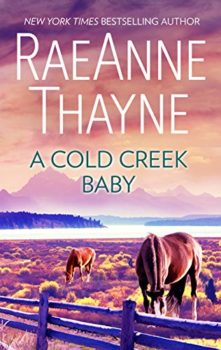 Cowboys of Cold Creek Book #8
June 5, 2017
Harlequin
Available in: e-Book (reprint)
A Cold Creek Baby
A cowboy, a baby and the woman who could save them both…
She'd often dreamed about him coming back, with a baby in his arms. And now, Cisco del Norte is home. But the baby he carried can't possibly be theirs.
Still, Easton Springhill got part of her wish. The man she never stopped loving is back, even for just a little while—with a serious injury, a beautiful baby girl and an explanation about them both that's as flimsy as his excuse for leaving years before. And after five long years of trying to forget him, Easton is faced with a choice: love him—and that little girl—while she has them, or save herself and get away while the getting is good.
Because there's no way she'll be able to escape with her heart a second time…
Originally published October 2010 in Silhouette Special Edition #2025 in mass market paperback and eBook.