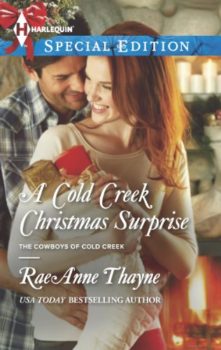 Cowboys of Cold Creek Book #12
December 1, 2013
Harlequin Special Edition
Available in: e-Book
A Cold Creek Christmas Surprise
USA TODAY bestselling author RaeAnne Thayne brings readers back to the ranch for an emotional holiday visit with The Cowboys of Cold Creek!
Hardened rancher Ridge Bowman has long told himself he has no need for love—just work and his little girl are enough to get him through. But when his "cleaning lady," Sarah Whitmore, gets injured on his staircase, well, of course he has to invite her to spend the holidays with him. It's only the responsible thing to do.
Only, Sarah isn't really there to work on his house. She came bearing precious artwork belonging to Ridge's late mother, and possibly a secret that could devastate them both. But as Christmas draws closer, so does Ridge—and Sarah convinces herself that she will tell him what she knows as soon as the holiday is over. She might be the key to his past—if only he could be a part of her future….