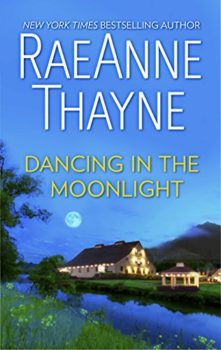 Cowboys of Cold Creek Book #2
April 24, 2017
HQN
Available in: e-Book (reprint)
Dancing in the Moonlight
Return to Pine Gulch in this classic tale of love and homecoming by New York Times bestselling author RaeAnne Thayne!
Lieutenant Magdalena Cruz had come home, but it wasn't the way she'd envisioned her return. And though all she wanted was to be alone, infuriatingly handsome Dr. Jake Dalton—of the enemy Daltons—won't cooperate. And she needs him to, because the walls around her heart are dangerously close to crumbling every time he comes near….
Jake has spent most of his life trying to get closer to Maggie, with little to show for it. But she's the woman he's always wanted, and no injury in the world could change that. Now if only he could convince her that the woman who stood before him was beautiful, desirable, and meant to be his….
Originally published May 2006 in Silhouette Special Edition #1757 in mass market paperback.