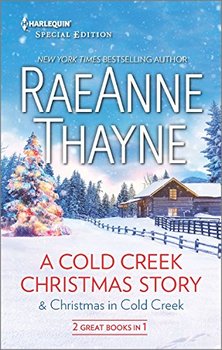 Cowboys of Cold Creek Books #14 & 9
November 24, 2015
Harlequin Special Edition
Box Set
Available in: Paperback (reprint)
A Cold Creek Christmas Story & Christmas in Cold Creek
A new Cowboys of Cold Creek story from New York Times bestselling author RaeAnne Thayne!
Celeste Nicholas prefers to keep to herself in her hometown of Pine Gulch, Idaho… That is, until one of her children's stories becomes a major success.
Millionaire Flynn Delaney has moved back home to help his little girl heal from losing her mother. Celeste holds some indefinable magic for them both. Can Flynn find a family, and true love, in the one who got away?
Plus, a heartwarming RaeAnne Thayne favorite from the Cowboys of Cold Creek series, CHRISTMAS IN COLD CREEK, also included in this book!
Rebecca Parsons claims to be a waitress and a single mother, but she doesn't look the part to Pine Gulch Police Chief Trace Bowman. Becca will do anything to protect her little sister from their con-artist mother, but can the sexy cop perform a holiday miracle?
A Cold Creek Christmas Story was originally published November 2015 in Harlequin Special Edition #2443 and Christmas in Cold Creek was originally published November 2011 in Harlequin Special Edition #2149.