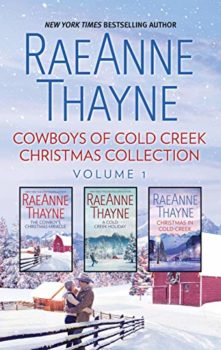 Cowboys of Cold Creek Books #4, 6 & 9
October 15, 2018
Harlequin
Box Set
Available in: e-Book (reprint)
Cowboys of Cold Creek Christmas Collection Volume 1
Enjoy these three heartwarming Cowboys of Cold Creek holiday romances by New York Times bestselling author RaeAnne Thayne, together for the first time!
The Cowboy's Christmas Miracle
(originally published November 2008 in Silhouette Special Edition #1933 in mass market paperback and September 2018 in eBook by Harlequin)
Christmas is tough for widow Jenna Wheeler and her four children. But even though she'd sold part of her family's land to make ends meet, she's determined to spin the holiday into the stuff of magic—no matter what it takes. Now if she could only find a job….
Maybe her new landlord could oblige—gorgeous, child-averse Carson McRaven. He needs a chef, and he knows the lovely Jenna can do a bang-up job—if only she could keep her brood out of his hair. But as he finds himself catapulted into the cheerful chaos of her family…not to mention Jenna's arms… he's learning more about the spirit of Christmas than he'd ever dreamed existed.
A Cold Creek Holiday
(originally published December 2009 in Silhouette Special Edition #2013 in mass market paperback and February 2010 in eBook and October 2018 in eBook by Harlequin)
All Emery Kendall wanted was to flee painful memories of Christmases past. She craved distraction and healing, and the mountains of Idaho offered both…plus the key to a long-buried family secret. But when she meets her host, rancher Nate Cavazos, she hardly gets a warm welcome….
The former army ranger's smoldering good looks mask deep emotional scars. And now his hands are full as guardian of two orphaned nieces. That's all the involvement he could handle right now.
Still, Nate can't ignore his fierce attraction to Emery or his nieces' instant attachment to her—until Emery's secret shatters their happiness. Would it be a lonely Christmas for four lost souls? Or the best family holiday ever?
Christmas in Cold Creek
(originally published November 2011 in Harlequin Special Edition #2149 in mass market paperback and eBook and November 2017 in eBook by Harlequin)
She claimed to be a waitress and a single mother, but Rebecca Parsons doesn't look like any hash-slinger Pine Gulch Police Chief Trace Bowman has ever seen. And she doesn't seem particularly maternal toward her little girl, either. Still, one look in her vulnerable green eyes and his protective instincts go into overdrive.
Attention from local law enforcement is the last thing Becca needs. She'll do anything to protect her little sister Gabi from their con-artist mother, even lie about their identities. When Trace shows up at their house carrying a Christmas tree and stirring desires she can't afford to indulge, she longs to surrender to the magic of the season with him. But Becca's past is catching up—fast. Can her sexy police chief perform a Christmas miracle?