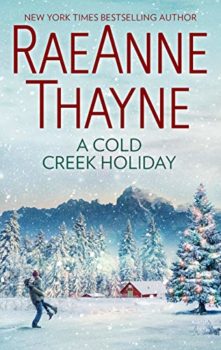 Cowboys of Cold Creek Book #6
October 15, 2018
Harlequin
Available in: e-Book (reprint)
A Cold Creek Holiday
Holiday warmth brings four lonely souls out of the cold in New York Times bestselling author RaeAnne Thayne's classic Cowboys of Cold Creek romance!
All Emery Kendall wanted was to flee painful memories of Christmases past. She craved distraction and healing, and the mountains of Idaho offered both…plus the key to a long-buried family secret. But when she meets her host, rancher Nate Cavazos, she hardly gets a warm welcome….
The former army ranger's smoldering good looks mask deep emotional scars. And now his hands are full as guardian of two orphaned nieces. That's all the involvement he could handle right now.
Still, Nate can't ignore his fierce attraction to Emery or his nieces' instant attachment to her—until Emery's secret shatters their happiness. Would it be a lonely Christmas for four lost souls? Or the best family holiday ever?
Originally published December 2009 in Silhouette Special Edition #2013 in mass market paperback and February 2010 in eBook.