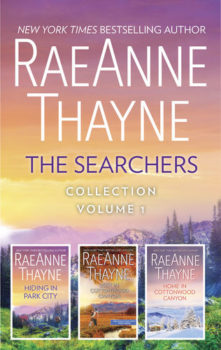 Searchers Books #1-3
July 16, 2018
Harlequin
Box Set
Available in: e-Book
The Searchers Collection Volume 1
New York Times bestselling author RaeAnne Thayne brings her trademark warmth and tenderness to these thrilling romantic stories in The Searchers series.
Hiding in Park City
(originally published December 2003 as Nowhere to Hide in Silhouette Intimate Moments #1264 in mass market paperback and March 2018 in eBook by Harlequin)
As an on-the-run single mother out to protect her daughters, Lisa Connors needs two things: money, and to keep her identity secret. But the possibility of the former threatens the latter: as the caretaker of the hunk-next-door with two broken legs, her ability to keep her distance is shaky. When she finds out said hunk's profession—FBI agent—it's downright demolished….
Gage McKinnon spent most of his life trying to keep away from all things familial, so the last thing he needs is to have two adorable little girls take root next door. But it's their mother who poses his greatest threat. For with Lisa he feels that door in his heart—the one that slammed shut twenty-five years ago—start to open, just a crack.
Lost in Cottonwood Canyon
(originally published September 2004 as Nothing to Lose in Silhouette Intimate Moments #1321 in mass market paperback and April 2018 eBook)
Crime expert Wyatt McKinnon built his career by turning high-profile cases into bestsellers. His most recent project—investigating the murders that landed a detective on death row—reunites him with Taylor Bradshaw, the inmate's fiercely protective sister. Wyatt plans to help her exonerate her convicted sibling.
Wyatt insists his attraction to the captivating redhead won't distract him, but he does concede that the recent attempts on Ms. Bradshaw's life have caused unexpected emotional complications.
Home in Cottonwood Canyon
(originally published May 2005 as Never Too Late in Silhouette Intimate Moments #1364 in mass market paperback and March 2017 in eBook by Harlequin)
For all their obvious differences, medical resident Kate Spencer and recently freed—though-wrongly-imprisoned—Hunter Bradshaw have one big thing in common: both of them have holes in their past they were sure could never be filled. So when Kate, née Charlotte McKinnon, announces her plan to take a road trip to find clues to her real identity, ex-cop Hunter offers to go along for the ride. Only for protection, of course.
But there's where their trip took an unexpected turn. For Kate, who'd loved Hunter from afar for years, found no answers, only more questions. And Hunter, with Kate by his side, saw that even though yesterday might be murky, today was dawning clear and bright.
FREE BONUS STORY!
How to Train a Cowboy by Caro Carson
(originally published August 2017 in Silhouette Special Edition #2566 in mass market paperback and eBook)