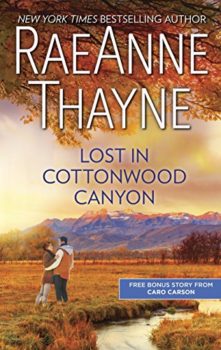 Searchers Book #2
Originally Nothing to Lose
April 16, 2018
Harlequin
Available in: e-Book (reprint)
Lost in Cottonwood Canyon
New York Times bestselling author RaeAnne Thayne brings readers a thrilling story of a sister desperate to save her brother's life and the true crime writer who may be the only man who can help!
Lost in Cottonwood Canyon "The Searchers Book 2" by RaeAnne Thayne
(originally published September 2004 as Nothing to Lose in Silhouette Intimate Moments #1321 in mass market paperback)
Crime expert Wyatt McKinnon has built his career by turning high-profile cases into bestsellers. His most recent project—investigating the murders that landed a detective on death row—has reunited him with Taylor Bradshaw, the inmate's fiercely protective sister. Wyatt plans to help her exonerate her convicted sibling.
Wyatt insists his attraction to the captivating redhead won't distract him, but he does concede that the recent attempts on Ms. Bradshaw's life have caused unexpected emotional complications.
FREE BONUS STORY!
How to Train a Cowboy by Caro Carson
(originally published July 2017 in Harlequin Special Edition #2566 in mass market paperback and eBook)