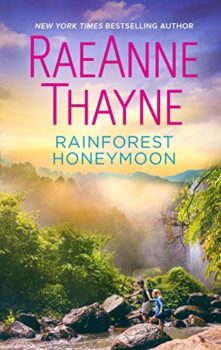 Searchers Book #7
Originally High-Stakes Honeymoon
January 17, 2019
Harlequin
Available in: e-Book (reprint)
Rainforest Honeymoon
New York Times bestselling author RaeAnne Thayne takes readers on a romantic journey to Costa Rica!
While honeymooning solo might be unconventional, ex-bride-to-be Olivia Lambert can't waste a fabulous trip to Costa Rica just because her former fiancé turned out to be pond scum. Imagine her surprise when a handsome stranger appears in the jungle—silver machete in his hand!
Lucky for Olivia, Ren Galvez is a scientist and one of the good guys. And he was trying to save Olivia from a near-certain death at the hands of one of the bad guys. But who is going to save Ren from her?
Originally published July 2007 as High-Stakes Honeymoon in Silhouette Romantic Suspense #1475 in mass market paperback.