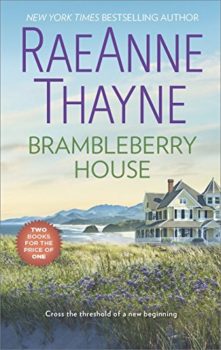 Women of Brambleberry House Books 2-3
January 31, 2017
HQN
Box Set
Available in: Paperback, e-Book (reprint)
Brambleberry House
Come stay awhile at Brambleberry House, a place infused with acceptance, healing and heart—as only RaeAnne Thayne can imagine it.
His Second-Chance Family
(originally published January 2008 in Silhouette Special Edition #1874)
Julia Blair spent many happy summers at Cannon Beach and fell hard for sweet local boy Will Garrett. Now the for-rent sign at Brambleberry House seems like a wonderful omen for widowed Julia and her young children. She craves the warmth she once felt in Brambleberry House—and in Will's arms. But before he can embrace his first love, he'll have to lay down the burden of the past and open his heart again.
A Soldier's Secret
(originally published August 2008 in Silhouette Special Edition #1918)
Struggling to rebuild her business and her life, Anna Galvez knows she's fortunate to have inherited Brambleberry House as her rock-solid base. When she finds a handsome new tenant in injured army pilot Harry Maxwell, Anna thinks her luck—in love, at least—might be changing. Until the lieutenant's story begins to unravel…