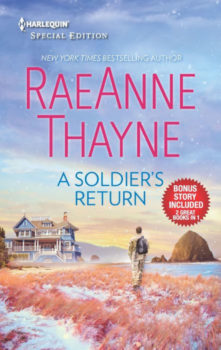 Women of Brambleberry House Books 4 & 1
January 22, 2019
Harlequin Special Edition
Box Set
Available in: Paperback, e-Book (reprint)
A Soldier's Return & The Daddy Makeover
The women of Brambleberry House are back!
Returning home to Cannon Beach and living in Brambleberry House, a place where good things seemed destined to happen, had brought Melissa Fielding and her young daughter such joy. Perhaps it was no accident when the single mom "bumped" into Eli Sanderson and discovered the handsome doctor was also back in town. The ex-soldier was still so captivating, but also more guarded. Was now the time to put old ghosts to rest?
A Soldier's Return was originally published January 2019 in Harlequin Special Edition #2671 in mass market paperback and eBook.
Plus, one of the original Women of Brambleberry House stories—The Daddy Makeover!
Eben Spencer learned long ago to keep his emotions under wraps. Now it's just him and his little girl…until he meets Sage Benedetto. She's warm, emotional, open—everything Eben is not. Sage's bewitching nature soon has this tycoon rethinking his future…
The Daddy Makeover was originally published September 2007 in Silhouette Special Edition #1875 in mass market paperback from the original Women of Brambleberry House trilogy.