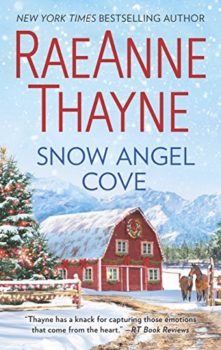 Haven Point Book #1
October 28, 2014
HQN
Available in: Paperback, Audio, e-Book
Snow Angel Cove
New York Times bestselling author RaeAnne Thayne welcomes you to Haven Point, a small town full of big surprises that are both merry and bright.
Nothing short of a miracle can restore Eliza Hayward's Christmas cheer. The job she pinned her dreams on has gone up in smoke—literally—and now she's stuck in an unfamiliar, if breathtaking, small town. Precariously close to being destitute, Eliza needs a hero, but she's not expecting one who almost runs her down with his car!
Rescuing Eliza is pure instinct for tech genius Aidan Caine. At first, putting the renovation of his lakeside guest lodge in Eliza's hands assuages his guilt—until he sees how quickly he could fall for her. Having focused solely on his business for years, he never knew what his life was missing before Eliza, but now he's willing to risk his heart on a yuletide romance that could lead to forever.