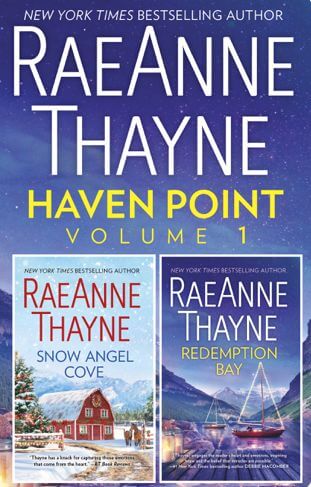 Haven Point Book #1-2
July 15, 2019
HQN
Box Set
Available in: eBook
Haven Point Volume 1
New York Times bestselling author RaeAnne Thayne introduces you back to Haven Point—a place made for second chances…
Snow Angel Cove "Haven Point Book 1"
(originally published November 2014 in mass market paperback and eBook)
Nothing short of a miracle can restore Eliza Hayward's Christmas cheer. The job she pinned her dreams on has gone up in smoke—literally—and now she's stuck in an unfamiliar, if breathtaking, small town. Precariously close to being destitute, Eliza needs a hero, but she's not expecting one who almost runs her down with his car!
Rescuing Eliza is pure instinct for tech genius Aidan Caine. At first, putting the renovation of his lakeside guest lodge in Eliza's hands assuages his guilt—until he sees how quickly he could fall for her. Having focused solely on his business for years, he never knew what his life was missing before Eliza, but now he's willing to risk his heart on a yuletide romance that could lead to forever.
Redemption Bay "Haven Point Book 2"
(originally published July 2015 in mass market paperback and eBook)
McKenzie Shaw would do anything for her hometown of Haven Point. It may be small, but it's never let her down…unlike gorgeous, infuriating Ben Kilpatrick. He was her childhood hero until he closed his family's factory, leaving the town's economy in shambles. Now his tech firm is considering opening a local facility. For Haven Point's sake, McKenzie has to grit her teeth and play nice.
What could a town filled with painful memories ever offer Ben? Yet seeing the town through the eyes of McKenzie—its fiery young mayor—he suddenly has his answer. If only he can resolve the animosity crackling between them, Ben may have found the place where he can build ties and find healing…a place where love arrives when it's least expected.