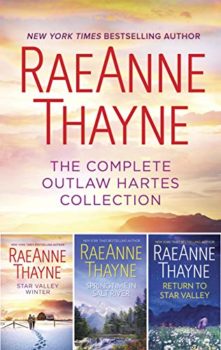 Outlaw Hartes Books #1-3
June 10, 2019
Harlequin
Box Set
Available in: e-Book
The Complete Outlaw Hartes Collection
Enjoy all three Outlaw Hartes stories together for the first time! New York Times bestselling author RaeAnne Thayne brings readers along on three heartwarming romantic journeys as the Harte siblings find their happily ever after. Originally titled The Valentine Two-Step, Taming Jesse James, and Cassidy Harte and the Comeback Kid.
Star Valley Winter
(originally published February 2002 as The Valentine Two Step in Silhouette Intimate Moments #1133 in mass market paperback and January 2018 in the 2-in-1 The Valentine Two-Step and The Color of Courage in mass market paperback and eBook and February 2019 as Star Valley Winter in eBook)
Single father Matt Harte learned the hard way not to trust women. His wife left him because she couldn't deal with ranch life—so the last thing he wants to do is plan the annual Valentine's Day dance. His daughter, Lucy, has plans for her father; she's determined to get him to fall for beautiful vet and recent Salt River transplant Ellie Webster.
Ellie knows that Matt doesn't want her in his town, let alone on the too-small dance committee of two. It's not as if she wants to spend all that one-on-one time with the rugged rancher, imagining what it would be like to be his partner—for real…
Springtime in Salt River
(originally published March 2002 as Taming Jesse James in Silhouette Intimate Moments #1139 in mass market paperback and March 2017 as Springtime in Salt River in eBook)
Jesse James Harte grew up as wild and untamed as his Old West namesake, but now he's the law in this stretch of the Wyoming high country. That meant trouble is his business—and if he'd ever seen somebody in trouble, it was the town's new schoolteacher, Sarah McKenzie.
She is as beautiful as a mountain meadow in springtime. But the haunted look in her eyes says she's running from something—something that might be catching up with her. He ached to protect her, to take that look away—and make her his forever.
Return to Star Valley
(originally published April 2002 as Cassidy Harte and the Comeback Kid in Silhouette Intimate Moments #1144 in mass market paperback and January 2018 as Return to Star Valley in eBook)
Ten years ago, Cassidy Harte had stood at the altar waiting for Zach Slater. And when he didn't show up—and was said to have disappeared with her brother's flirtatious wife—she did the only thing she could do. Held her head up high. Helped raise her motherless niece. And swore never to get involved with a man again.
And then back into her life walked Zach—with an "I'm sorry" on his lips, an explanation she refused to hear and the vow that he would make her his once again. And this was one vow he was determined to keep….