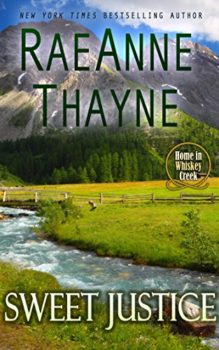 Home in Whiskey Creek Book #4
May 16, 2017
RaeAnne Thayne LLC
Available in: e-Book (reprint)
Sweet Justice
New York Times bestselling author RaeAnne Thayne weaves a classic, passionate story of a resolute heroine and a fierce warrior.
The remote Wyoming cabin he had chosen for his escape suits high-powered attorney Nicholas Kincaid just fine — at least it did, until a lovely shepherdess and her sheep invade his privacy!
Ivy Parker needs Nick's pasture for her flock, but negotiating with this stubborn man who has lost faith in everything is a bigger challenge than keeping her ranch in the black.
When dark shadows threaten the world Ivy loves, she tries to stand her ground alone, as she always has. But can a powerful fighter who has seen too much of betrayal find his destiny — and a home he has never known — in her heart?
Originally published October 1998 in mass market paperback by Bantam Loveswept #907.