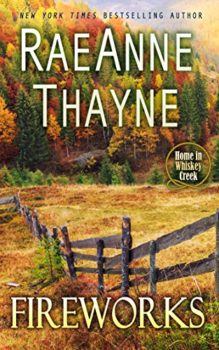 Home in Whiskey Creek Book #3
May 16, 2017
RaeAnne Thayne LLC
Available in: e-Book (reprint)
Fireworks
New York Times bestselling author RaeAnne Thayne returns to Whiskey Creek to deliver a classic story of loss, hope, and the promise of forever.
Rachel Lawrence hasn't been back to Wyoming since her husband died fighting a brush fire, but if seeing her beloved nephews again means facing rancher Sam Wyatt and the guilt she still feels, she's willing to take the risk.
Sam has plenty of his own guilt. He walked away from fighting fires and built a comfortable life on the ranch for him and his sons in Whiskey Creek. The last thing he needs is for Rachel to come back with her green eyes, her long legs and the smile he's never been able to forget.
Stunned by the heat of his attraction for her, Sam aches to lose himself in her arms, but can a rough-edged cowboy ignite the love of a woman like her? And is Rachel strong enough to surrender her fear of losing all she loves again?
Originally published November 1997 in mass market paperback by Bantam Loveswept #867.