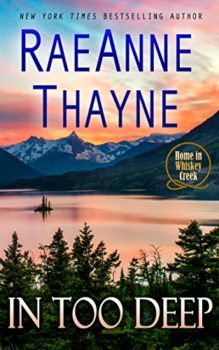 Home in Whiskey Creek Book #2
December 1, 2011
RaeAnne Thayne LLC
Available in: e-Book (reprint)
In Too Deep
In this classic story, New York Times bestselling author RaeAnne Thayne tells a deftly plotted, emotionally uplifting love story.
When Will Tanner stopped her for speeding on a Wyoming backroad, Andrea McPhee couldn't resist trying to tease a smile out of the brooding temporary sheriff, aching to bring some light to hold back the dark shadows. Her best friend's older brother has journeyed through hell and deserves to find heaven on the other side — or at least a little peace.
Though fiercely drawn to the comfort of her arms, Will isn't sure he can find room for a woman like Andie in a life focused on vengeance — until he discovers she has secrets of her own.
Can a man possessed by the past give the woman who loves him new hope? And can a woman still fighting her own demons be the sanctuary he needs?
Originally published April 1997 in mass market paperback by Bantam Loveswept #833.