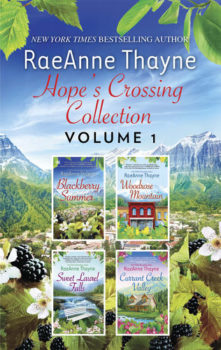 Hope's Crossing Books 1-4
August 27, 2018
HQN
Box Set
Available in: e-Book
Hope's Crossing Collection Volume 1
Four stories of small-town happily-ever-afters and sweet second chances from New York Times bestselling author RaeAnne Thayne!
Blackberry Summer
(originally published June 2011 in mass market paperback and eBook and May 2019 in mass market paperback, eBook and audio by HQN Books.
The last thing Claire Bradford has time for is romance—in fact, the single mother has her hands full, what with two kids, a thriving business, an unreliable ex-husband and an accident that has repercussions for the whole town. But when her friend's sexy brother, Riley McKnight, is suddenly looking at her in a new light, Claire realizes that her life needs to change—and that the handsome younger police officer may be just the ticket!
Woodrose Mountain
(originally published April 2012 in mass market paperback, eBook and audio by HQN Books.
Occupational therapist Evie Blanchard is recovering from an emotional year—and she's vowed not to work again. But self-made millionaire and single dad Brodie Thorne has vowed to do whatever it takes to help his daughter, Taryn, recover from the accident that left Hope's Crossing in crisis. And with laughter, courage and more than a little help from the kindhearted people of Hope's Crossing, Taryn may get the healing she deserves—and Evie and Brodie might just find a love they could never have imagined.
Sweet Laurel Falls
(originally published October 2012 in mass market paperback, eBook and audio by HQN Books.
Maura McKnight-Parker finds she cannot escape the past. Still reeling from one loss, she is stunned at the reappearance of her older daughter, Sage—and Jackson Lange, her first love. Jackson never knew she was pregnant when he fled Hope's Crossing all those years ago—but he never forgot Maura. This fragile family has secrets aplenty, but Maura and Jackson—and Sage—have to face up to them to find the bright future that awaits them.
Currant Creek Valley
(originally published April 2013 in mass market paperback, eBook and audio by HQN Books.
Workaholic chef Alexandra McKnight doesn't need a serious relationship, she's just been offered her dream job at an exclusive new restaurant being built in town. The construction foreman building the new kitchen, Sam Delgado, seems perfect for a fling, but the single dad wants more than she can give. Now it's up to him to help Alex see that, no matter what happened in her past, they can build a bright future together.