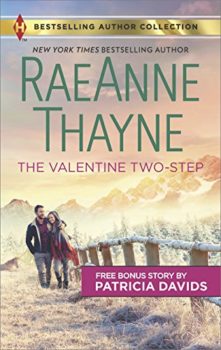 January 30, 2018
Harlequin (Bestselling Author Collection)
Available in: Paperback, e-Book (reprint)
The Valentine Two-Step and The Color of Courage
LOVE IS IN THE AIR…
Single father Matt Harte learned the hard way not to trust women. His wife left him because she couldn't deal with ranch life—so the last thing he wants to do is plan the annual Valentine's Day dance. His daughter, Lucy, has plans for her father; she's determined to get him to fall for beautiful vet and recent Salt River transplant Ellie Webster.
Ellie knows that Matt doesn't want her in his town, let alone on the too-small dance committee of two. It's not as if she wants to spend all that one-on-one time with the rugged rancher, imagining what it would be like to be his partner—for real…
BONUS BOOK INCLUDED IN THIS VOLUME: The Color of Courage by USA TODAY bestselling author Patricia Davids (originally published August 2007 in Steeple Hill Love Inspired #409 in mass market paperback)
The Valentine Two-Step was originally published February 2002 in Silhouette Intimate Moments #1133 in mass market paperback.